Excerpts from "Photo Opportunity" by Glenn McNatt
The Baltimore Sun
September 28, 1998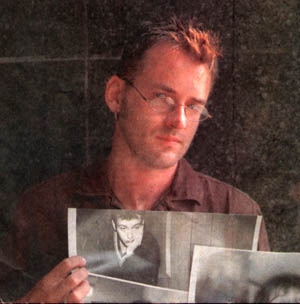 The pictures in the film porportedly taken by Pecker were in fact made by a young Baltimroe photographer named Chuck Shacochis, who snapped them between takes on Waters' set.
Shacochis' pictures are so good that, if there were any justice in the world, they would be exhibited in a tony New York galler, where a well-known critic could rave over them and turn Shacochis into an instant celebrity.
Alas, Shacochis is still drudging away in provincial obscurity at his day job in a Baltimore photo supply shop, hoping against hope that life wil imitate art and bring him the fame and fortune Waters bestowed on his fictional counterpart.
Sacochis, 29, met Waters through a mutual friend in New York whom Waters had initially approached to take the still photographs for the film. The friend couldn't do it, so he recommended Shacochis for the job.
"I guess you could say I jumped at the opportunity," Shacochis recalled. "I mean, I figured this would probably be my only chance ever to photograph stirppers, rats having sex and celebrities all in one project."
Take for example, a shot made midway into the film, when Pecker and hiskleptomainiac homeboy, Matt, crawl upstairs from their basement darkroom and surprise the her's sugar-addicted little sister filching spoonfuls of the stuff in the kitchen while their parents sleep.
In the movie, Waters plays the scene as just another tasteless gag. but Shacochis' grainy, black and white photo, with its deliberately distressed surface, records a more disturbing, ambiguous reality that suggests the horrible self-degradation of adult addiction by contrasting it with childhood innocence.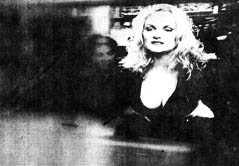 Or take the shot of newspaper heiress and former Symbionese Liberation Army kidnap victim Patty Hearst, who makes a cameo appearance in "Pecker" as an insufferably uptight art collector.
At a chi-chi reception following Pecker's New York gallery opening, the hapless photographer manages to catch HearsT in a tacky moment as she adjusts her decolletage. Waters milks the scene mostly for its potential as an adolescent dirty joke. But Shacochis' photo captures some of the sadness of faded beauty and remorse for what might have been. It's a perceptive portrait of the once-notorious socialite, the visual insights transcending the limited purpose the picture serves the movie.