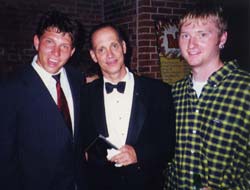 Jim, John and Steve
REPORTED BY JIM HOLLENBAUGH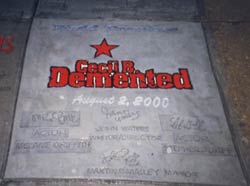 The commemorative plaque outside the Senator

Wednesday August 2nd, 2000 was another important day in John Waters history - this was the day billed as the World Premiere of his new film, CECIL B. DEMENTED. This wasn't actually the World Premiere for it was shown earlier at the Cannes Film Festival, but this was the Official World Premiere. The premiere was located at the Senator Theatre in Baltimore which is a very old, yet extravagant one-screen theatre located Old York Road. This is the site for many Baltimore premieres including all of Waters' films since HAIRSPRAY. This theatre is feature in CBD and was one of the sites where I worked as an extra on the movie.

My friend Steve Fisher and I arrived at the theatre very early and were one of the first in line. At about 7:00 the doors to the theatre opened and ticket-holders were allowed in. We were greeted inside by several display cases holding Waters related material along with other premiere related decorations. We hurried into the theatre and strategically chose our seaats next to those of the Patricia Hearst family and prepared for the magic to begin. We then got back out to the lobby area and watched all the stars come in the theatre. Everyone seemed to be there with the exception of Melanie Griffith and Kevin Nealon. We spotted John's parents and brother and other recognizable faces such as Steve Yeager. Others that filed in included Pat Moran, Alicia Witt, Patty Hearst, Stephen Dorff, John Waters, Mink Stole, Ricki Lake, and more.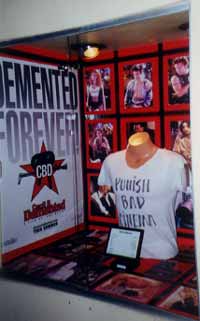 A case full of CBD paraphanalia inside the theatre

Next came a series of presentations by the owner of the Senator Theatre, memebers of the Maryland Film Commission, and John Waters. The Maryland Film Commission presented John with a local artist's painting of the Apex adult movie theatre located in Baltimore. John accepted the painting and then introduced the cast/crew as well as talked a bit about the film. Soon the lights dimmed and on came the movie.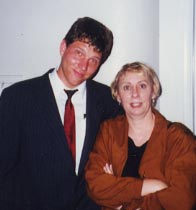 I personally enjoyed CBD a great deal. The movie was unlike anything John has ever done before and certainly a lot more risque than his other newer films. I could tell the film was very personal for John and for Baltimore. There were many inside jokes that possibly only an obsessed Waters fan or Baltimorean could understand fully. Very trashy and crazy! Most of the scenes I was in were cut with the exception of an end scene where I am laughing at someone's misfortune [I won't go into more detail as not to spoil the film for those who have not seen it yet].

After the credits rolled we got up to leave, satisfied with the film and ready to party it up at the Lava Lounge where the after party was held. My goal was to talk to Ms. Hearst when we left our seats, but I was instead drawn down to the front of the theatre after spotting Ms. Jean Hill. I could hardly believe it! I approached her to find out that she is one of the nicest people I have ever met. We talked for a short while at the theatre and it was truly a dream come true. She was looking very well for her condition. We then went to the lobby where we ended up talking with Mink for a bit and saying a short hello to Mary Vivian Pearce.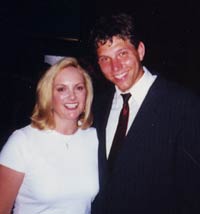 Then it was off to the party! We arrived at the Lava Lounge located at the Inner Harbor next to the Power Plant. This place was great although it was so hot I thought I was going to faint. The club was great though. It was three stories of bars, dance floors, huge couches and all sorts of fun. The bottom and second floor had stands set up by many restaurants serving out all types of food. I really have no clue what most of the food was I put in my mouth, though it was quite tasty. Here at the party I had some great conversations and interactions with others. I met Mr. DreamlandNews himself Jeff Jackson. I also got my chance to meet Patty Hearst, which was great. She was a very nice lady and seems to love the fact that she is getting fan for her performance in films instead of her performance in a bank with a machine gun!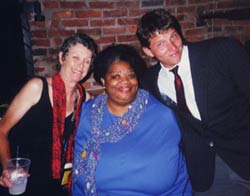 While walking around I noticed once again Miss Jean Hill. We started talking again and ended up talking for a majority of the party. She was damn cool and we took a whole slew of pictures, many of which were on her camera. We talked about DESPERATE LIVING, CBD, her days as a greeting card model, her performance with a band in New York City singing "I Will Survive", her health problems, Tesco Vee, etc. We talked about everything! Then John Waters and Van Smith came down and all of us started talking a bit. John was very nice and fun to talk with. He even talked a small bit about the new movie he is working on about sex addicts in Baltimore.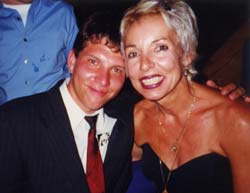 Even though it was said there would be no VIP area for the "big stars" at the premiere, this was a blatant lie - there was a VIP area not allowed for us common folk. So, much like what I did at the Pecker premiere, I made it a goal to sneak in. Once I made it past the big tough guys I got in with no problems. I talked to a few interesting people and hung out a bit with Susan Lowe and Maggie Gyllenhaal (who plays Raven in CBD). This "special" VIP area really wasn't any different, but they did have a big plate of oysters which is an inside joke from the film (in case you haven' seen it yet).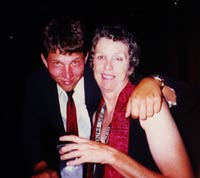 After having my fill in this area, I returned to talk with Jean Hill and this time Mary Vivian Pearce was there as well. We all talked for a couple minutes and posed for some last minute pictures. The party was ending then at about 1:45 a.m. we left the party and headed back home satisfied with the wonderful evening we had. It was so great to talk with so many of the original Dreamlanders. I was ecstatic!