JW graces Gay Pride 2000 in Lansing, MI with Grizelda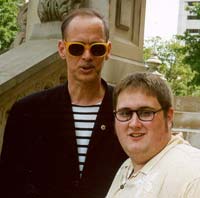 Grizelda met John Waters at Gay Pride in Lansing, Michigan where John spoke to the masses at a rally. He even got an autograph on his Pecker T-shirt!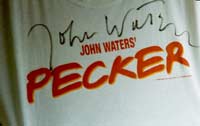 "That had to be the best part of the day," said G. "We didn't expect him to hang out for a while after speaking. He talked with us for a few minutes after the autograph mob had left. He mentioned the DVD boxed set - he said every movie was going to be in the box except for the early shorts."
"And if you can believe this....a natural rainbow appeared in the sky right above the crowd. Everyone thought Jesus was coming back or something."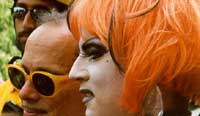 "In his speech he said that it would be easier for people to get along if everyone got there fave directors names tattooed on there forehead. Also in his speech he talked about how Divine wanted to be Jackie Kennedy. Most of the speech was gay related due to the Pride parade. When he first walked up he said that he was queer and proud and not to see him as a role model because he was mentally ill. He also spoke briefly about every movie he made, and gave away that in his new film there is a character who is straight but wants to kill himself because he is not gay."